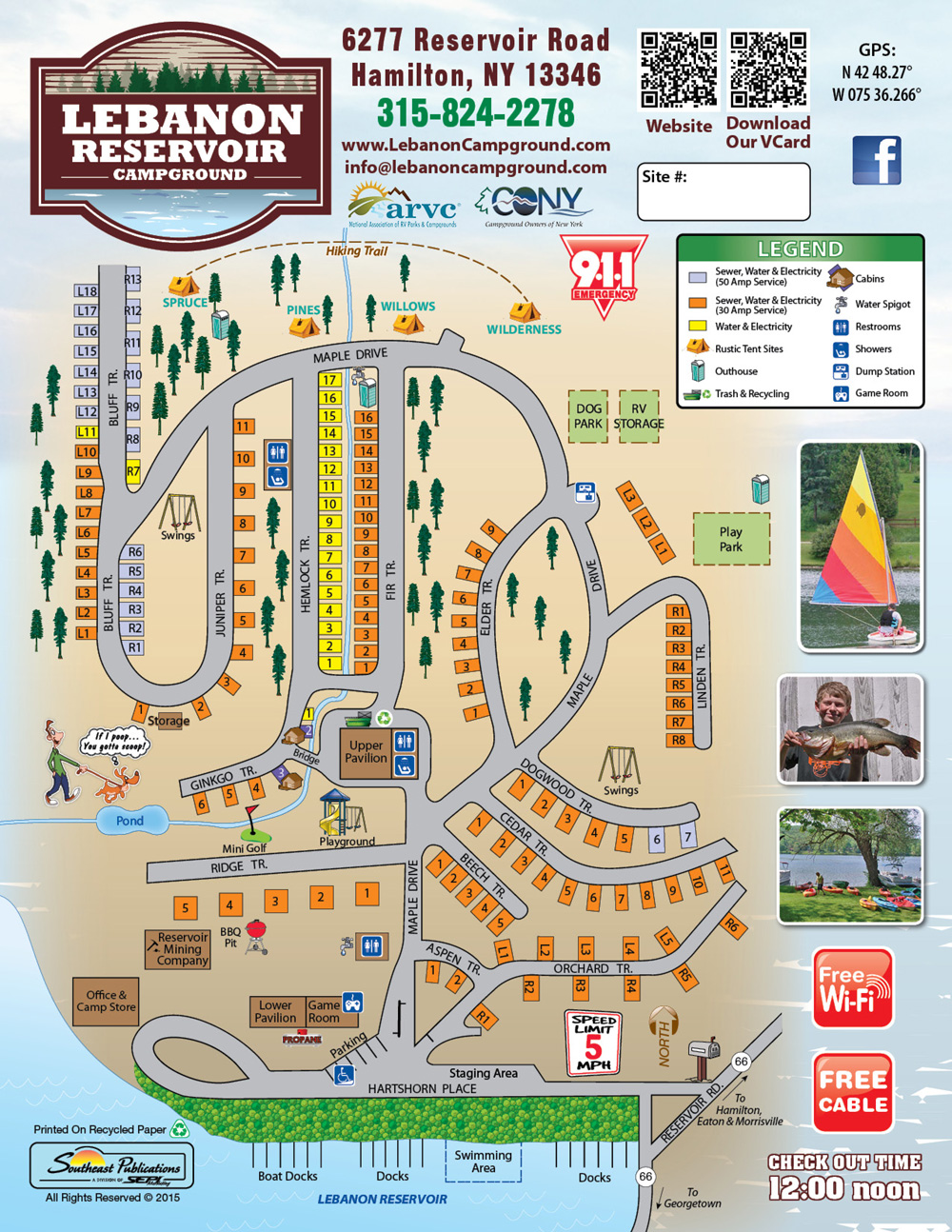 Click here to download and print a PDF version of this map.
This site map designed and provided by Southeast Publications USA, Inc.
To make everyone's stay more pleasant, we ask that all observe these rules.
Quiet hours are 10:00PM to 8:00AM; no loud noise or music after 10:00PM.
Speed limit on all campground roads is 5MPH. All motor vehicles on the grounds, including golf carts are to be operated by a licensed driver. Golf carts are to be operated by the camper(s) to which the cart is registered.
Visitors must register and pay applicable fees at the office. Daytime visitors' check-out time is 8:00PM. Visitors staying overnight must register at the office by 6:00PM. Registered campers must be present whenever any visitors are present.
All pets must be registered at the office. Pets are allowed on a six foot leash. Do not leave pets unattended at campsite or hitch pets to trees. No pets are allowed in buildings or on the beach. Please clean up after your pets.
Swimming area is for use by registered campers only. Please observe all rules posted at the waterfront.
Children must be at campsite at which they are registered by 10:00PM. All children under six years of age must be accompanied by an adult in restrooms.
No golf carts along the waterfront.
No campfires larger than three feet wide. Make sure all fires are extinguished before leaving site.
Smoking is prohibited in all buildings.
No washing of cars in campground.
Dumpsters are recycling bins are to be used for trash generated at the campground only. Do not leave trash brought in from outside the campground.
Campsites will not be rented to anyone under 21 years of age without a legal chaperon.
Minibikes, motorbikes, ATV's and mopeds prohibited.
No cutting or defacing of any standing trees or shrubbery. Fines will be assessed for any cutting or damage. No clotheslines, tents, or awnings are to be tied to live trees.
Emergency phone messages will be delivered immediately; other messages will be delivered as time permits, once a day.
No add-ons, outbuildings, or roofed or enclosed decks without express permission from the office.
Registration is to be completed upon arrival. Please do not set up on any campsite or move from one site to another without checking at the office.
We are always willing to hear your suggestions, in writing, if possible; please submit them to the office. Thank you.